The Grass Is Dead
with
Sun, Oct 22
Doors: 6:30 pm
Show:

7:30 pm
All Ages
Additional Info
Elevation 27 proudly presents The Grass Is Dead Fall Tour 2023!
Sunday October 22, 2023 at 7:30 PM, Doors at 6:30 PM
Tickets
GA: $16 Advanced, $21 Day Of Show
Elevated Seating & Reserved Dining: $31
All Ages
It is well known that roots music is passed down from generation to generation. From grandparents to parents and from parents to their children. The inevitable collision between the traditional past and the enormous catalogue of modern music, both spiritual and psychedelic, is the fertile plain that sprouted the roots of The Grass Is Dead. Initially formed as an acoustic offshoot of one of the country's most beloved GD tribute bands, Crazy Fingers, The Grass Is Dead has evolved over the past ten years into a juggernaut of sound and a festival favorite up and down the east coast, to Colorado and back. Their live performances bring into view a traditional sensibility of bluegrass, swing, and folk music launched directly onto a psychedelic paintbrush of modern influences, most importantly, the music of the Grateful Dead. Captivating audiences with their unique interpretations and thoughtful arrangements of songs by the GD, Jerry Garcia, and many others, as well as their extensive file of traditional roots music at their command, it's only a matter of time until the buzz that they have created will reach the West Coast as well. The Grass Is Dead are very much alive and well, rocking out and and picking their way across this great country.
General Admission
Tickets
are standing room only.
Elevated Seating Tickets
are first come first seated.
Reserved Seating Tickets at Dining Tables and Booths
include admission to the show. You may be seated with other guests.
All Table and Booth Tickets are asked to comply with a minimum food purchase of $10.00 per guest.
Click Here For Venue FAQ's & Safety Protocols
Don't fall victim to scalpers!
Tickets for all events at Elevation 27 are sold exclusively through Ticketmaster or in person at the Elevation 27 box office during show hours.
We are not responsible for tickets purchased anywhere other than through these two channels. Please be careful when searching for tickets online, as many of the first results are often third-party scalpers and should be avoided (i.e. Tickets-Center, Ticketsales, VividSeats, Stubhub, SeatGeek, etc). We cannot verify tickets purchased through third parties in advance for you and our box office staff will not be able to resolve any issues involving them, such as lost or invalid tickets.
Artists
The Grass Is Dead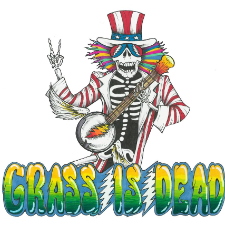 The Grass Is Dead are a force of nature in bluegrass and Grateful Dead music. More than merely paying tribute to the Dead, these hot pickers have been seamlessly weaving bluegrass, blues, rock and funk into a unique sonic experience. Pulling from such diverse influences as Bill Monroe, Earl Scruggs, John Hartford, Allman Brothers Band, Pink Floyd and so many others, The Grass Is Dead have created a sound that not only pays homage to roots music and the songs of the Dead and Jerry Garcia, but expertly travels through time and space to explore the galactic and psychedelic nature of music itself. After many years of regionalized gigging, the past three years has seen The Grass Is Dead aggressively touring nationally and sharing the stage with such great acts as David Grisman, Del McCoury, Greensky Bluegrass, Leftover Salmon, Billy Strings, Peter Rowan, Donna The Buffalo, Jon Stickley Trio, Town Mountain and many more. This past year alone they played a number of highly regarded festivals such as Suwannee Spring Reunion, DelFest, The Aiken Bluegrass Festival, Rooster Walk, Suwannee Roots Revival, Hickory Fest, Wormtown Music Festival and Leftover Salmon's Blue Ridge Jam. Look for more big announcements in 2019!
​
"At the core of The Grateful Dead is the heart of American music, which is bluegrass and folk. You cannot hide behind these two genres. What you get in the studio is what you get onstage. And it's that vulnerability and honesty that sets the tone and attitude apart from the haphazard and polished nature of pop radio. Putting their music through the prism of string music, The Grass Is Dead showcases how Jerry & Co. buried innumerable gems of wisdom — sonically and spiritually — in the rich tapestry of their melodies and lyrics, all of which radiates in intimacy and inclusiveness of The Grass Is Dead when they stand in front of the microphone, and also the unknown night of curiosity and exploration that they seek out and grasp with such ease."

— Garret K. Woodward, Music Editor - The Smoky Mountain News
​
"The Grass Is Dead allows me to play both traditional and Dead-like vibes on their show. It's great energy and intent and we know a million tunes between us. They really play bluegrass, yet they also are Deadheads. Their music is not just rock spiced up with bluegrass instruments. They have well-thought-out arrangements that draw on bluegrass but are accepted by even the most hardcore Dead fan. I never feel like I'm playing in a Grateful Dead cover band when I'm with them. Because of their intention and the way they put the songs together, it's a real tribute to both bluegrass music and the Grateful Dead at the same time."
— Rev. Jeff Mosier