Adam Doleac
with
Thu, May 2
Doors: 7:00 pm
Show:

8:00 pm
All Ages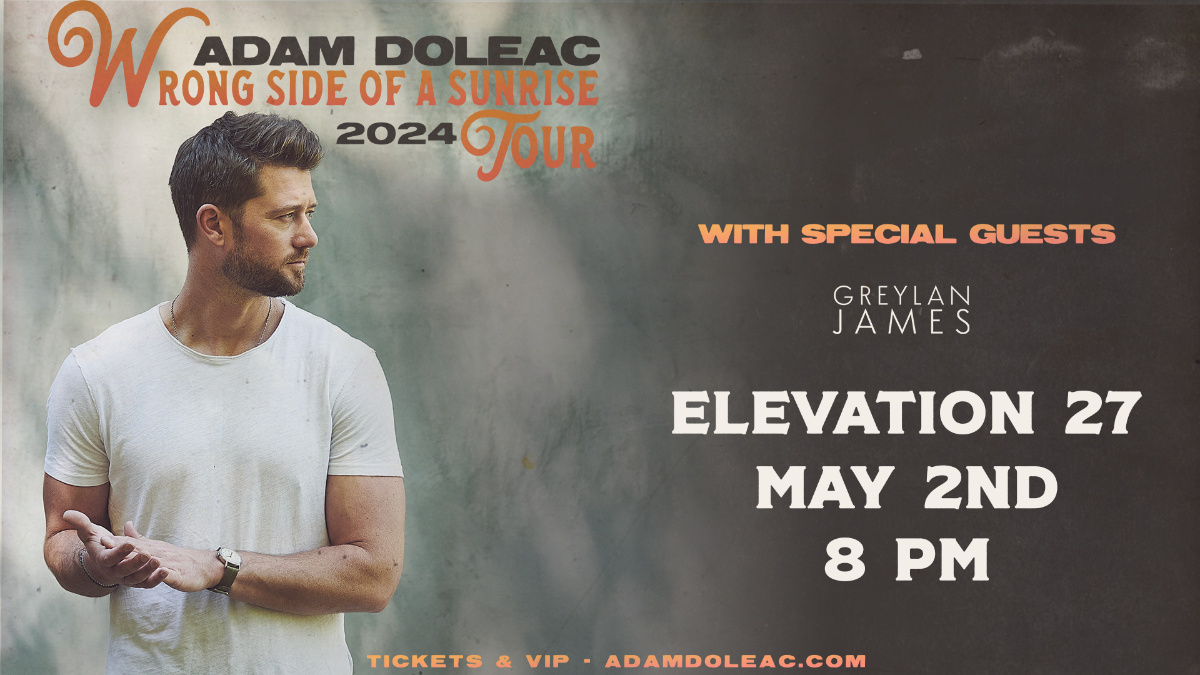 Additional Info
Elevation 27 proudly presents Adam Doleac - Wrong Side of a Sunrise Tour with special guest Greylan James
!
Thursday May 2, 2024 at 8 PM, Doors at 7 PM
Tickets
GA: $21 Advanced, $26 Day Of Show
Elevated Seating & Reserved Dining: $36
All Ages
General Admission
Tickets
are standing room only.
Elevated Seating Tickets
are first come first seated.
Reserved Seating Tickets at Dining Tables and Booths
include admission to the show. You may be seated with other guests.
All Table and Booth Tickets are asked to comply with a minimum food purchase of $10.00 per guest.
Click Here For Venue FAQ's & Safety Protocols
Don't fall victim to scalpers!
Tickets for all events at Elevation 27 are sold exclusively through Ticketmaster or in person at the Elevation 27 box office during show hours.
We are not responsible for tickets purchased anywhere other than through these two channels. Please be careful when searching for tickets online, as many of the first results are often third-party scalpers and should be avoided (i.e. Tickets-Center, Ticketsales, VividSeats, Stubhub, SeatGeek, etc). We cannot verify tickets purchased through third parties in advance for you and our box office staff will not be able to resolve any issues involving them, such as lost or invalid tickets.
Artists
Adam Doleac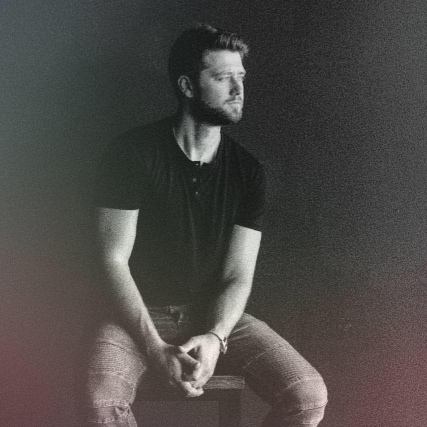 "I'm a go big or go home type guy, I don't know how to stop in the middle."

Adam Doleac, dubbed "the hero country needs" by Popdust, has staked his claim as one to watch in Nashville. Recently No. 1 on Sirius XM's Hot 30 Countdown with his single Famous - a successful follow-up to previous release Whiskey's Fine reaching No. 3 on the countdown. Doleac's music was described by Rolling Stone as "anchored not only in the trends of Top 40 radio, but also the blue-collar grit of Bob Seger and the bluesy influence of his Mississippi hometown." Doleac made his Grand Ole Opry debut in 2018 and has been captivating audiences nationwide while touring with some of the biggest names in the genre including Kane Brown, Chris Young, and Carrie Underwood to name a few. Rolling Stone praised that Doleac is "better suited to the stadium than the saloon." All of this success caught the eye of Sony Music Group which lead to Doleac being signed to the prestigious label in October of 2019.

However, if you'd asked a young Adam Doleac what he was going to do with his life, odds are high he would have said anything but 'musician'. "I was the kid that played all the sports," he says of his childhood in Hattiesburg, Mississippi. His talent for baseball earned him a scholarship at the University of Southern Mississippi; an offer that would serendipitously bring him into the musical fold.

"In college, my roommates all played guitar," says Doleac, "So anytime they left the house I'd pick up one of them and start teaching myself." Despite being untrained, he took naturally to the instrument. "I wrote about five songs with my baseball teammates… then I went and booked three shows around my hometown. Turns out a lot of people turned up. So I got the bug." Adam recorded one of those songs in a YouTube video that rapidly accrued millions of views. It attracted the attention of the former head of Sony ATV. "He had me come into his office... I played him a couple of songs. He emailed Kenny Chesney the song. Five minutes later Kenny said 'I wanna cut it.'"

This began Doleac's successful partnership with Sony as a songwriter; allowing him to craft tracks for acts like Kane Brown, Darius Rucker, and Hootie and the Blowfish. In 2017, however, everything changed when he made his first solo EP drop. The lead track, Whiskey's Fine, sold 35,000 copies as an independent single and became Sirius XM's 'Highway Find', which skyrocketed Doleac in to the wider Country Music consciousness. He followed 'Whiskey's Fine' with 'Famous', which spent two weeks at the top of Sirius XM's country chart, and has now outperformed 'Whiskey's Fine' by every metric. All of this has lead to tectonic surge in public enthusiasm for the firebrand. Enthusiasm that Doleac returns to his base five-fold. "The reason, the drive, the passion behind the millions of hours of work... It's for the love of the fans."

"For Adam, the sky's the limit" (Hollywood Life), his latest drop Solo was described by Billboard as "mesmerizing," he returned to his baseball roots by recording 'Key to the City' for the ESPN College World Series, and he shows no signs of slowing down. "My goal ultimately is to play stadiums and fill them suckers up," Doleac states plainly. Go big or go home, indeed.