Stanley Jordan
with
Sat, May 25
Doors: 6:00 pm
Show:

7:00 pm
All Ages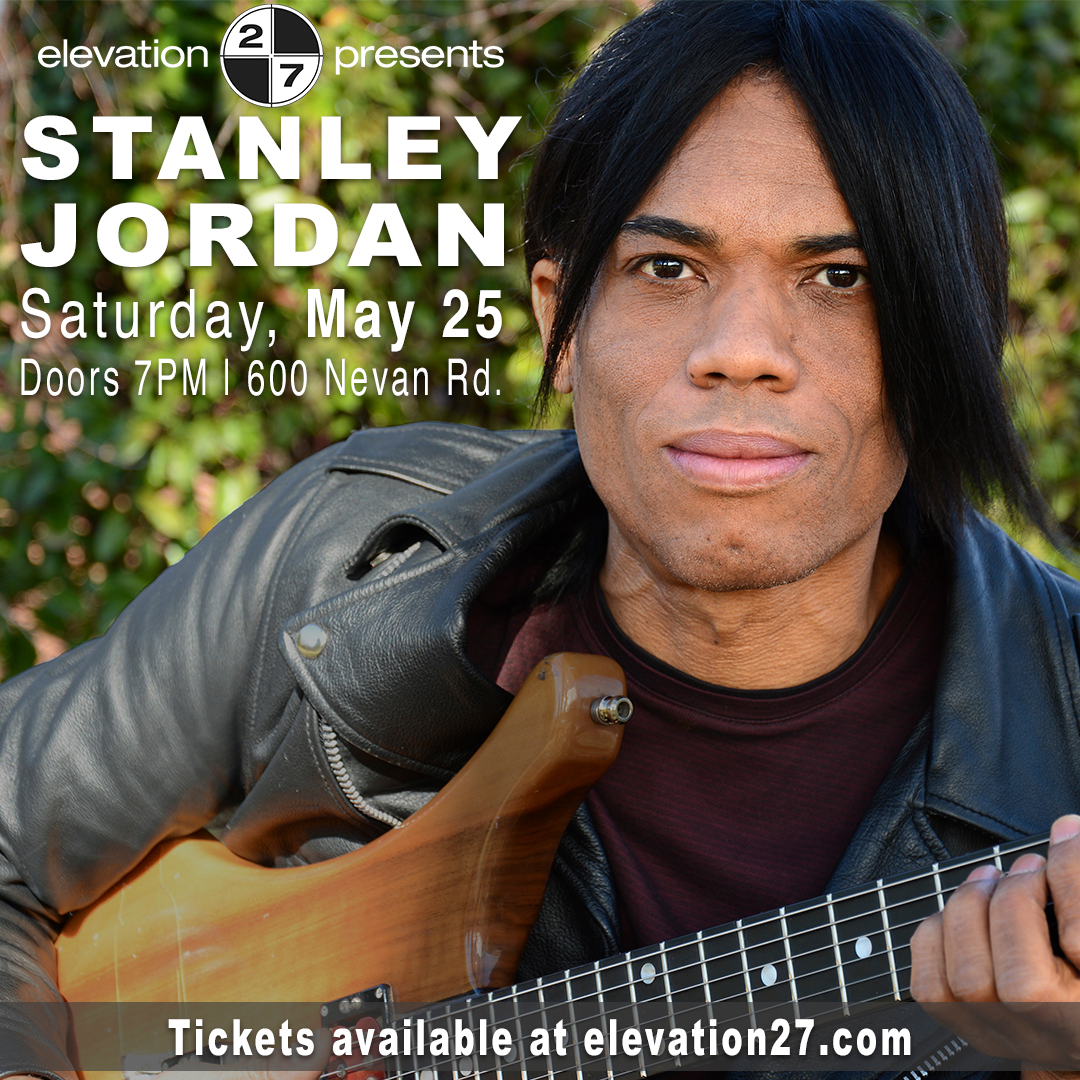 Additional Info
The Stanley Jordan Concert will feature three different ticket options as show in the diagram below.
Seating At Front of Stage, Rows A-E and Rows F-J
will be rows of chairs set directly in front of the stage.
Dining Table Seating
are seats at our dining tables and include admission to the show. All Dining Table Tickets are subject to a requested food minimum of $9.00 per guest. If your party does not occupy all the seats at the table, you may be seated with other guests. You must arrive at your table at or before show time, or your table may be given away. Waitress service will available approximately 30 minutes after you are seated. Please allow an additional 30-45 minutes for your food to arrive.
General Admission
tickets are standing room only on the sides or between the row seating and dinning tables.
Please note: If our parking lot is full, please park in the Walmart parking lot closest to Advance Auto.


Artists
Stanley Jordan
In a career that took flight in 1985 with commercial and critical acclaim, guitar virtuoso Stanley Jordan has consistently displayed a chameleonic musical persona of openness, imagination, versatility and maverick daring. Be it bold reinventions of classical masterpieces or soulful explorations through pop-rock hits, to blazing straight ahead jazz forays and ultramodern improvisational works—solo or with a group—Jordan can always be counted on to take listeners on breathless journeys into the unexpected.

Key to Jordan's fast-track acclaim was his mastery of a special technique on the guitar's fretboard. Instead of conventional strumming and picking, Jordan's innovative "touch technique" is an advanced form of two-handed tapping. While a handful of other players were using similar techniques, Stanley's fluid, multi-layered textures and sheer virtuosity raised the bar for excellence. But his technique, though impressive, is always a means to a musical end. His music is imbued with a warmth and sensitivity that has captured the imagination of listeners worldwide. A classically trained pianist before playing guitar, Jordan wanted greater freedom in voicing chords on his guitar, so he applied piano principles to do so. Jordan's touch technique allows the guitarist to play melody and chords simultaneously with an unprecedented level of independence. It also allows Jordan to play simultaneously on two different guitars, or even on guitar and piano. He says that "I think of it as a single instrument, but one with a wide range of tonal colors—that's why I do it."

To date Jordan has performed in over 60 countries on 6 continents. He has performed at many festivals, including the Kool Jazz Festival, the Concord Jazz Festival, and the Montreaux International Jazz Festival. During the 1980s he collaborated with a diverse array of artists, including performances with Art Blakey and Richie Cole and recordings with Stanley Clarke and Kenny Rogers. The track with Rogers, "Morning Desire", became America's #1 country song in 1986. Later Jordan became a frequent guest with Les Paul during Paul's legendary Monday nights at Iridium in New York. Today Jordan performs frequently as a soloist and with his band, as well as collaborating with other guitarists such as Kevin Eubanks, Sharon Isbin and Muriel Anderson. He's also a frequent guest with jam bands such as the Dave Matthews Band, the String Cheese Incident, Phil Lesh, Moe and Umphrey's McGee.