The Embers
with
Sun, Nov 3
Doors: 4:00 pm
Show:

4:00 pm
All Ages
Additional Info
THE EMBERS: Presented by Larry's Beach Party - THE legendary beach
music marvel - for one night only at Elevation 27!
SUNDAY, NOVEMBER 3rd at 4:00 PM
TICKETS: $15.00 - $25.00 --- All Ages
General Admission tickets are standing room only.
Reserved Dining Seats include admission to the show. If your party does not occupy all the seats at a Table or Booth or section, you may be seated with other guests. You must arrive at or before the time assigned to your table or booth, or your seat may be given away. Waitress service will be available approximately 30 minutes after you are seated. Please allow an additional 30 minutes for your food to arrive.
*All Reserved Seating Tickets are subject to a requested food minimum of $9.00 per guest.
LUNCH SPECIAL: Monday-Friday from 11-2.
Bring your ticket stub back and get a
FREE SANDWICH
with the purchase of one sandwich and two drinks! Offer Valid through 2019.
Please note: If our parking lot is full, please park in the Walmart parking lot closest to Advance Auto.


Artists
The Embers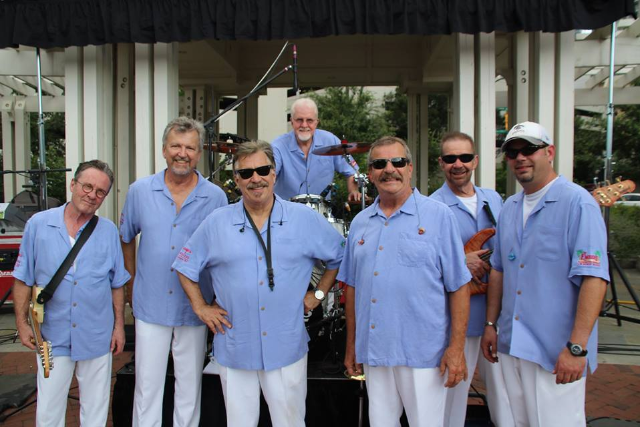 There are many bands or groups today yet few that are considered a musical institution. The Embers have solidified their position as a thriving musical entity leaving their mark on listeners for decades.
The Embers boast numerous albums and single releases that span decades and all the crazes continuing to exhibit top quality showmanship, musicianship and professionalism. Having been inducted into the South Carolina Rhythm and Blues Hall of Fame and the South Carolina Beach Music Hall of Fame, The Embers are honored to carry the moniker of North Carolina's Official Ambassadors of Music. They have traveled the country and the world and has performed for every event imaginable from the highest dignitaries to the hottest back yard frat parties. The Embers were also honored to travel throughout South Korea to perform their Christmas special 'Christmas with the Embers' on American Military bases for America's troops in December of 2007 and 2008. They were awarded Military Coins of Excellence for their distinguished service.
A Musical MARVEL
The Embers are widely considered a musical MARVEL and have laid the groundwork for what has become known as 'Beach Music' in the Carolinas, Virginias, the gulf coast region of North America and every beach in between. They are a true musical tradition with which many Americans have listened to from childhood to adulthood. The Embers consider the genre of Beach Music as "music with a memory" and have been creating lasting memories since its inception in 1958. Simply put – Heart and Soul, Rhythm and Blues, Feel Good Music.
The Embers Tour
Today, touring is commonplace for The Embers regularly boasting an average of 225 shows per year. They also embark on a cruise each year for their friends and fans to various locations throughout the Caribbean. And don't miss their Christmas shows – perfect to get you in the mood for the holiday season!
An Entertainment Experience
The Embers are truly one of the finest entertainment experiences of our lifetime. Come to their show and they will put JOY in your step, LOVE in your heart and BEACH MUSIC in your soul!