All That Remains
with Butcher Babies, SAUL, Por Vida
Sun, May 10
Doors: 6:00 pm
Show:

7:00 pm
All Ages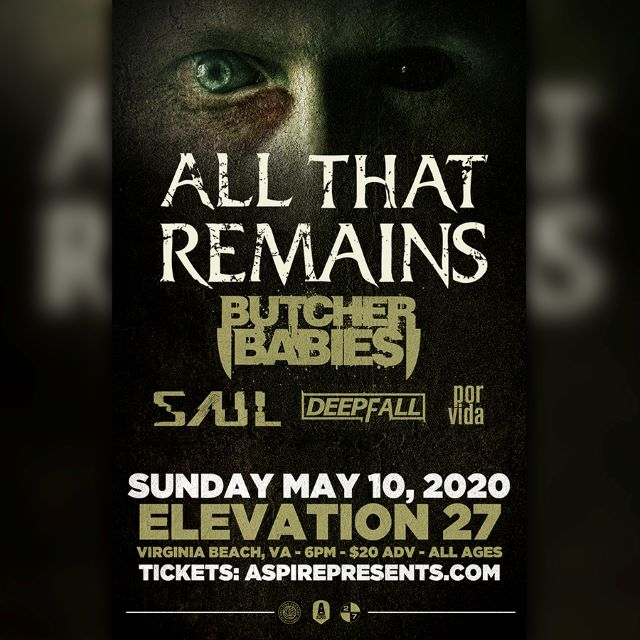 Additional Info
ALL THAT REMAINS with special guests Butcher Babies, Saul, and Por Vida: by Aspire Presents at Elevation 27!
SUNDAY, MAY 10th at 7:00 PM, 6:00 PM Doors
TICKETS: $20.00 - $25.00 --- ALL AGES

ENJOY DINNER DURING THE SHOW - We have daily specials and great BBQ!

General Admission tickets are standing room only.

Reserved Seating Tickets at Dining Tables and Booths include admission to the show. If your party does not occupy all the seats at a Table or Booth, you may be seated with other guests. You must arrive at or before the time assigned to your table or booth, or your seat may be given away. Waitress service will be available approximately 30 minutes after you are seated. Please allow an additional 30 minutes for your food to arrive. *All Reserved Seating Tickets are subject to a requested food minimum of $9.00 per guest.

Please note: If our parking lot is full, please park in the Walmart parking lot closest to Advance Auto.
Artists
All That Remains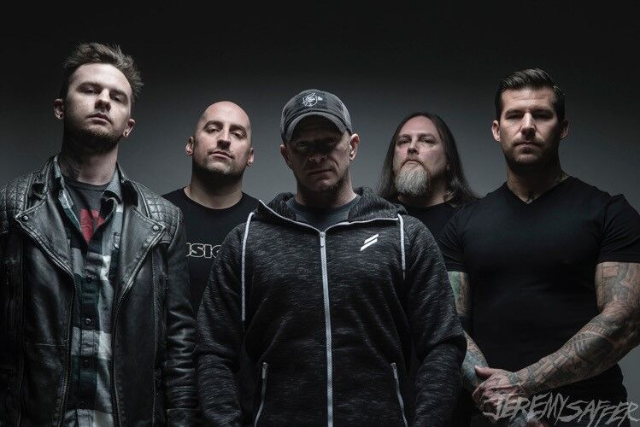 Since their formation in Massachusetts during 1998, All That Remains have built an undeniable legacy upheld by airtight songcraft, knifepoint precise metallic instrumentation, and stadium-size hard rock hooks. As a result, they've outlasted trials, tribula- tions, and trends to stand tall as as one of this century's most consistent purveyors of heavy music with a bulletproof canon of arena-worthy anthems. All That Remains' discography is highlighted by success at Active Rock including radio hits in the top 10 such as "Two Weeks," "What If I Was Nothing," and their first number one "Stand Up,". Averaging 1 million monthly listeners on Spotify (an unprecedented feat for a metal band in any era), while cumulative sales eclipse 1 million albums worldwide. Not to mention, they've earned five consecutive Top 10 debuts on the Billboard Top Rock Albums Chart and four in the Top 5. Most recently, 2017's Madness spawned the smash cover of Garth Brooks' "The Thunder Rolls," which trended on VEVO and generated 21 million plus total views and 8 million Spotify streams in under a year's time. In addition to packing houses as a headliner, they've practically burned down festival stages everywhere from Rock on the Range to Welcome to Rockville. In 2018, the quintet—Philip Labonte [lead vocals], Oli Herbert [lead guitar], Mike Martin [rhythm guitar], Jason Costa [drums], and Aaron Patrick [bass, backing vocals]— perfect their patented pummeling by wasting no time or energy at all on their ninth full-length album, Victim of the New Disease [Fearless Records]. — Rick Florino, September 2018
Butcher Babies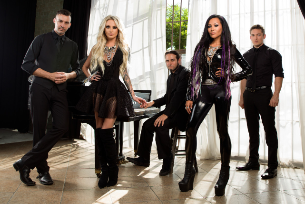 For nearly a decade, Butcher Babies have been crushing stages worldwide with their vicious live performance and explosive energy. Their stage presence is a hypnotic spectacle that leaves audiences hungry for more. Frontwomen Heidi Shepherd and Carla Harvey, guitarist Henry Flury, bassist Jason Klein and drummer Chase Brickenden juxtapose brutal, aggressive riffs with beautiful melodies that wail with emotional redemption.
Hailing from the City Of Angels, Butcher Babies aided in the jubilant revival of the Metal scene on the Sunset Strip. While gaining attention from several record labels the band signed a worldwide deal with Century Media Records in December 2012. Less than a year later, July 2013, they released their debut album GOLIATH, produced by Josh Wilbur (Gojira, Lamb of God, Hatebreed). Followed by their highly anticipated sophomore headbanger, TAKE IT LIKE A MAN, August 2015, produced by Logan Mader (FFDP, Gojira, Soulfly).
The evolution continues as the band is set to release their third full studio album, October 27, 2017, LILITH, produced by Steve Evetts (Suicide Silence, Dillinger Escape Plan, The Cure). With three albums and two EPs under their belt, Butcher Babies have reached a new level of maturity solidifying a triumphant return after a brief creative hiatus to write and rebuild. LILITH opens with a kick right to the teeth with the aggressive Burn the Straw Man, then drips with sensuality on tracks like Headspin and The Huntsman, pairing riveting guitars with velvet vocal harmonies. This album runs the gamut between exploring the dark roots of lust and the high energy thrash hijinks that Butcher Babies have become known and loved for.
Butcher Babies have toured relentlessly among the likes of Megadeth, Rob Zombie, Marilyn Manson, Five Finger Death Punch, Danzig, In This Moment, Cradle of Filth, Black Label Society, etc; played music fests including Mayhem, Download (UK), Hellfest (France), Knotfest (US & Japan), Hell and Heaven(Mexico), Rock on The Range, Louder Than Life, Aftershock, Welcome to Rockville, etc. and appeared in the film Alleluia! : The Devils Carnival.
SAUL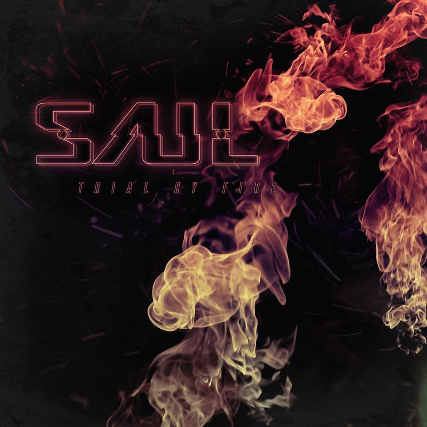 No difference exists between us.
We all live, breathe, and survive as best we can. SAUL boil hard rock down to its human core. The Iowa quartet - brothers Blake Bedsaul [lead vocals] and Zach Bedsaul [lead guitar, backup vocals], William McIlravy [bass, backup vocals], and Joe Nichols [drums] - encase undeniable melodies inside of mind-numbing polyrhythmic riffs. Above that unpredictable backdrop, emotionally-charged and identifiable lyrics abound. This approach resonates on impact as evidenced by the group's rapid rise. Within six months, they transformed from a Midwest favorite into a national powerhouse, cumulatively streamed upwards of 2 million times, and were pegged by Revolver among the "5 Bands Most Likely To Breakout In 2019."
For as much as this success arises from the four men onstage, they truly credit a devout and diehard fan base, appropriately dubbed, "Equals." "If you don't have fans, you're not a band, so we treat them like family," exclaims Blake. "They're our equals. They are just as powerful as we are." "We ultimately rise as equals," agrees Zach. "It shows we're all in this together."
The group quietly attracted a palpable level of adoration. Iowa natives Blake and Zach forged a musical partnership as kids before cementing the lineup of Saul in late 2017 by welcoming Joe and William into the fold. They performed alongside a diverse swath of artists, ranging from Bush, Fuel, 10 Years, to Hellyeah and Nonpoint. In early 2019, the single "Brother" organically vaulted from regional radio airwaves to #1 on Sirius/XM Octane. Recognizing the group's talent first, Octane championed them, taking a risk that paid off with a #1 smash. Moreover, countless other stations nationwide followed suit as the band impacted airwaves everywhere as a testament to their growing influence. Soon, it crossed 1.6 million Spotify streams and nearly a million YouTube views as they signed to Spinefarm Records and unleashed their debut Aeons EP. Dedicated to the co-founders' late brother Caleb Bedsaul who abruptly died due to the H1N1 virus in 2009, "Brother" earned acclaim from the likes of Loudwire and paved the way for much more.
The new single "Trial By Fire" ignites the next chapter. On the track, airtight palm-muted guitar gallops forward with mechanized thrash intensity before culminating on a hypnotic hook. The song spirals out on a hummable lead, reflecting yet another dimension of harmony. "During this whole period, our mother was dealing with lung cancer," sighs Blake. "She was put in hospice. We were trying to get home and take care of her - while getting the album done on time. When we got in the studio, she was really sick, which inspired the lyrics. She recently passed away. It was a trial by fire. The song is about the inner struggle of how we felt and the pressure when it came to following up 'Brother' in the middle of...everything. It was like we were walking through fire to make it right. We went home enough to see her though. We actually got to say goodbye, at least."
In the end, Saul deliver a bold body of work for themselves and, of course, for the Equals. "When people hear this, I want them to know they are Equals," Blake leaves off. "The songs come from a really personal place." "That's the way it will always be with us," Zach concludes. "We hope that they feel heard through our music."
Por Vida