The Mowgli's
with Petal, Arms Akimbo
Tue, Jul 16
Doors: 6:30 pm
Show:

7:30 pm
All Ages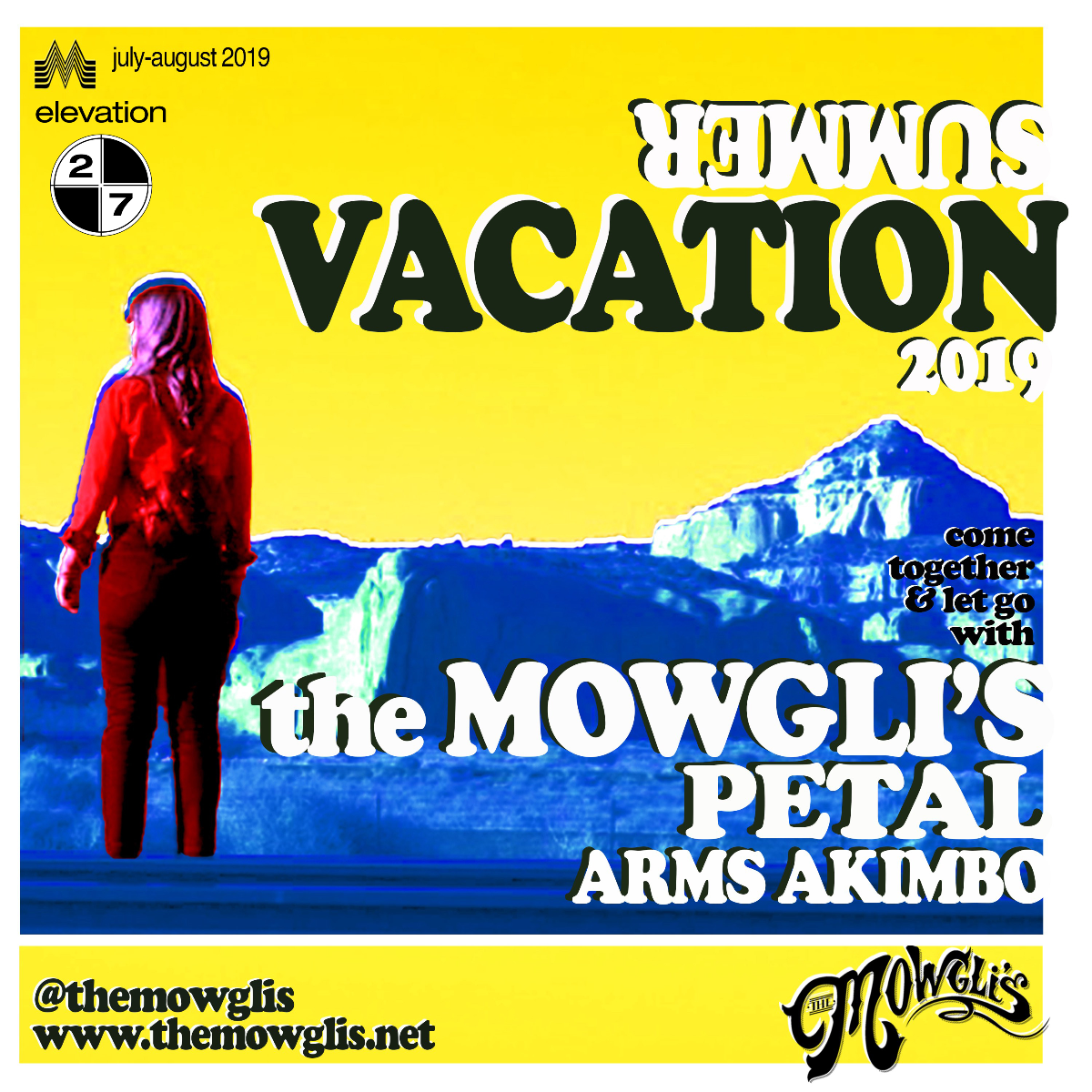 Additional Info
The Mowgli's at Elevation 27!
Tuesday, July 16th at 7:30 pm
Formed in 2010 by the coalescing of a Venice music collective The Mowgli's began as a 10+ member group playing house parties and warehouse gatherings.
Their major label debut LP, 2013's
Waiting For The Dawn
, saw immediate success with the hit single San Francisco. The record - which focused on the joy of bringing people together - immediately connected in a cynical world and the band quickly found themselves playing to sold out clubs around the US and inundated by requests for press, sponsorships and partnerships. Appearances at Bonnaroo, Lollapalooza, Firefly, Osheaga, Bottlerock and many other festivals followed as did performances on The Tonight Show, Jimmy Kimmel Live, Conan and a stint as the SXSW House band for Andy Cohen's Watch What Happens Live (Bravo).
The follow up LP, 2015's
Kids in Love
(which spawned the feel-good single "I'm Good") and their third LP
Where'd Your Weekend Go?
which came in the Fall of 2016 continued to build the band's reputation for uplifting alternative pop. Throughout it all, touring has been the essence of the group. Known for inclusive, powerful performances, they've crisscrossed the US more times than they remember, mostly headlining shows but occasionally as support for bands including Manchester Orchestra, The Maine and Walk The Moon. They've played for the US military in Honduras and Guantanamo Bay and been a chosen favorite of brands ranging from Abercrombie to Intel, Dunkin to Budweiser.
Now independent, and half of their original size, The Mowgli's released back-to-back EPs
I Was Starting To Wonder
and
American Feelings
in the past year, which have produced one of their biggest songs to date in Kansas City. They also wrote and performed the title song to Disney's #1 animated show, Big City Greens.
Always with a mission to bring hope and positivity into the world, The Mowgli's have been involved with numerous charities including The IRC, Heal The Bay, Happy Bottoms and many food banks and homeless shelters.
The band is:
Joshua Hogan - vocals/guitar
Katie Jayne Earl - vocals
Matthew Di Panni - bass
David Appelbaum - keys/guitar
Andy Warren - drums
---
Dining Table and Booth Tickets include admission to the show. All Dining Tickets are subject to a requested food minimum of $9.00 per guest. If your party does not occupy all the seats at the table, you may be seated with other guests. You must arrive at your table at or before your assigned time, or your table may be given away. Waitress service will available approximately 30 minutes after your assigned time. Please allow an additional 30 minutes for your food to arrive.
Please note: If our parking lot is full, please park in the Walmart parking lot closest to Advance Auto.


Artists
The Mowgli's
Petal
Arms Akimbo